PFE after our NFA Convention performance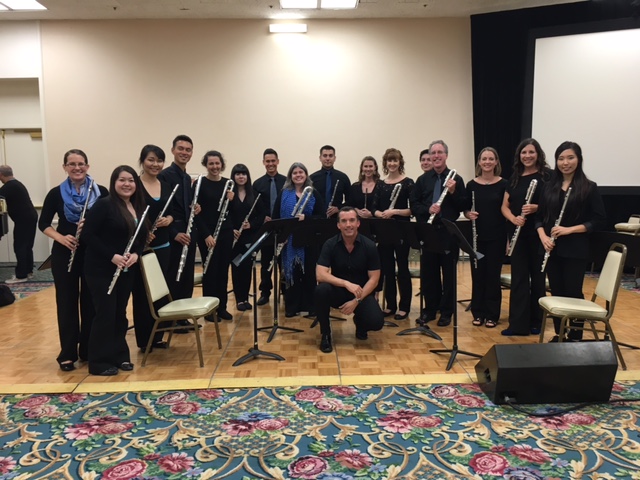 CONGRATULATIONS PFE! 
GREAT PERFORMANCE AT OUR SPOTLIGHT RECITAL AT THE 2016 NATIONAL FLUTE CONVENTION IN SAN DIEGO!
THE PERFORMANCE INCLUDED TWO WORLD PREMIERS AND ONE CONVENTION PREMIER!
The Pacific Flute Ensemble is a group based in Long Beach, CA and has been performing together for fourteen years. Comprised of players from seventh grade to retirement, the group rehearses weekly and performs three formal concerts each season in addition to several community performances. Through audition, the PFE has won featured performances at the  National Flute Association Conventions in 2005, 2010, 2012, and 2016. Always striving for excellence, the group has become a wonderful, supportive environment to grow as flutists.
Pacific Flute Ensemble members have performed with National Flute Association flute choirs at numerous conventions (6 Professional Flute Choir, 10 Collegiate Flute Choir, 9 High School Flute Choir).
The PFE has had six commissions for the group by lesser known composers.
Contact Darrin about Pacific Flute Ensemble: lbfluteman@verizon.net
"One of the highlights for me of the 2016 NFA Convention was the opportunity to hear the Pacific Flute Ensemble, conducted by Darrin Thaves. The performance was gorgeous. Intonation, phrasing, musicality, programming, everything about the concert was top flight. A true pleasure to experience! This is an ensemble to inspire flutists and flute choirs everywhere! …Sharyn Byer, Director, Columbia Flute Choir
"Since hearing the wonderfully vibrant performances of my Sonata for 8 Flutes by the Pacific Flute Ensemble with their brilliant conductor Darrin Thaves, I am most excited to hear that the group is to perform my Symphony No. 5 in the spring, and can't wait to hear their interpretation"…Andrew Downes, composer
"The Pacific Flute Ensemble, one of just a few flute choirs chosen to perform at the recent National Flute Association convention in Anaheim, played a fabulous concert on August 13th.  Their program was varied, showcasing their ability to seamlessly move from one style of music to another. Under Darrin's expert leadership, the group radiated professionalism in their stage presence, intonation, interpretation and overall musicianship.  Last but not least, they really connected with the audience and communicated all the moods of the program on a deeply meaningful level.  Bravo!"
…Deborah J. Anderson, composer
"Congratulations to the Pacific Flute Ensemble for an outstanding performance at the 2010 National Flute Association Convention!  It is very inspiring to see and hear such a fine ensemble with both student and adult members.  Your program was a perfect blend of standards with newer additions to our repertoire that highlighted the choir's excellent technical ability and precision, balance, intonation and musical interpretation."
…Kelly Via, National Flute Association Flute Choir Coordinator